Rapid-Step is the latest addition to the LumenAir series of precision air systems, providing very stable air pressure for the internal lumens of extruded micro tubing. Rapid-Step adds the ability to quickly and repeatably shift the air pressure inside an extruded tube with a variable diameter, often referred to as taper or bump tubing.
Using all-digital, high-resolution air pumps and fast digital pressure sensors results in a very repeatable air source for the demanding requirements of making taper tubing. As with all LumenAir versions, Rapid-Step uses no external air compressor and no switching air valves.
Shifting the air pressure is coordinated with your extrusion puller using a digital input signal that selects any one of three preset pressure set points. The pressure change response time can be digitally adjusted from 0.2 seconds, to as long as 4 seconds for a long taper. A graphic display chart lets you monitor the pressure change profile and easily adjust any of the three air pressure set points. The setpoints can also be remotely adjusted by your closed-loop extruder control system.
For more information regarding Rapid-Step,  Contact Us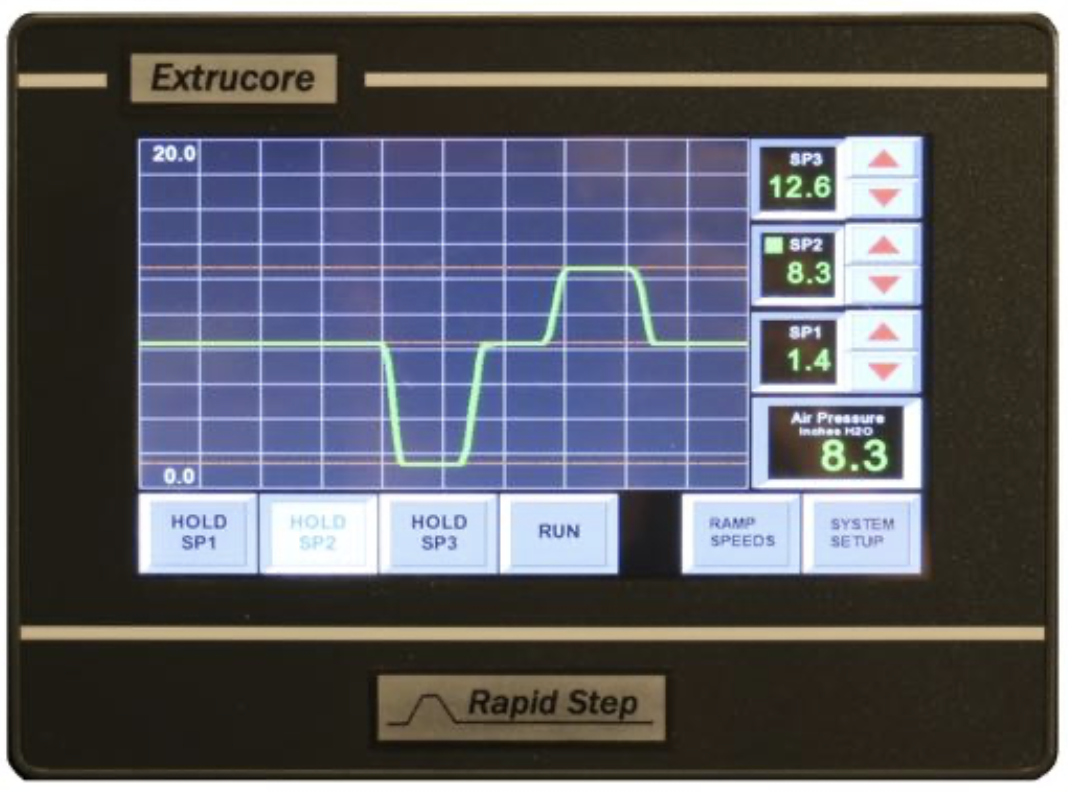 LumenAir Rapid-Step ™
Precision air source for extruded taper-tubing
Standard Features
Air pressure output range 0 to 45.0" H2O
Three digital pressure setpoints for running tapered tubing
Adjustable response time for pressure change: from 0.2 seconds to 2 seconds
Pressure resolution: 0.1" H2O
Maximum flow rate 9 LPM
Save and recall the complete profile of past setups for a tubing product
Analog input signals for external control of three set points (0 to10v)
Digital inputs for step-up/step-down of pressure set points
Digital inputs to remotely select active pressure set point 1, 2 or 3
MODBUS RS485 data port for external control from your extruder or remote HMI
7-inch color touch screen operator interface
Stand-alone air source using precision internal air pumps. No air compressor required
Standard rack-mount modules for any number of air channels required
Universal Input power: 100-240 Volts AC, 50-60 HZ, 4-amps, 1-Phase
Operating temperature range: 32F – 108F (0c – 42c)
Dimensions: 16.6" x 18" x 7" (42.1 x 45.7 x 17.7 cm) (4U Rack-mount enclosure)
All LumenAir systems are CE listed
Please specify the required power cord when ordering - U.S., U.K., Germany, China, or Japan