INTRODUCING...
LumenAir Rapid-Step™
Precision air source for extruded taper-tubing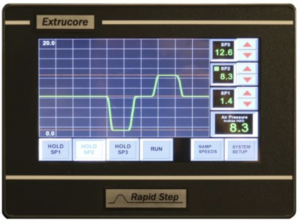 Rapid-Step is the latest addition to the LumenAir series of precision air systems, providing very stable air pressure for the internal lumens of extruded micro tubing. Rapid-Step adds the ability to quickly and repeatably shift the air pressure inside an extruded tube with a variable diameter, often referred to as taper or bump tubing.  READ MORE
Extrucore, is a provider of specialized extrusion manufacturing equipment. We have earned a reputation for well-designed, precision products.  This success is a result of our values of quality, innovation, integrity and commitment to our customers.